October 2014 Newsletter

Hubby put up a nice flag pole and American flag on the right side of my shop.  I love it!
We took a trip to Camden Harbor for the view and of course I took time out to knit!
.
REGULAR HOURS
Monday 10 AM – 5 PM
Tuesday…..Open by chance only, so please call ahead before making the trip!
Wednesday 10 AM – 5 PM
Thursday 10 AM – 7 PM
Friday 10 AM – 5 PM
Saturday 10 AM – 5 PM
Sunday 12 Noon – 5 PM
SOCIAL KNITTING:  I now have two times during the week that are set aside for social knitting during the day and one time set aside in the evening that combines social knitting with a time to offer free help, if needed, or a free "Learn to Knit" time.  We have a great time and welcome you to join us.
Daytime: Wednesday 10 -12 noon or Thursday 10 – 12 noon
Evening: Thursday 5 – 7 pm  (Social Knitting, Free Help and Free Learn to Knit)
COME JOIN US!
.
.
RAVELRY ……………I have my own group now and would love you to become part of it.  You can see pictures of what others have made using the yarns purchased from my shop and post your pictures too!  Just search for Rosemary's Gift & Yarn Shop under groups to find it and join up today!
FACEBOOK ……………I'm also on Facebook and you can be part of my page by searching "Rosemary's Gift & Yarn Shop", and clicking "Like". This will allow you to get updates of what I am posting of things that are happening at the shop in between my newsletters! I try to keep up with it as best as I can and I'd love to hear from you in between your visits to the shop.
TWITTER ……………I have just got myself on twitter and am trying to learn more about it. Remember I'm not a young chick so these new things take me a little time but if you want to get my tweets, I'm under Rosemary Libby and I'd love to read your tweets too!
.
THE YARN SHOP NEWS:  I've had many new yarns that have arrived in the shop that I know you will love.  Not all are on my web site yet but I'm working on getting them all on.
BRIO BY BERROCO in 8 Colors
109 Yards of Super Bulky yarn with metallic strands.
49% Wool/ 48% Acrylic/ 3% Other Fiber
2.25 st – 1″ on US 15, Hand wash, Dry Flat
.
ZEPHYR BY JAGGER SPUN in 10 Colors
1120 Yards of Lace Weight yarn
50% Merino Wool/ 50% Silk
Dry Clean
.
KIBOU BY NORO in 6 colors
295 Yards of DK Weight yarn.
54% Cotton / 34% Wool/ 12% Silk
5-5.5 sts=1″ on US 5, Dry Clean


.
RASTA BY MALABRIGO in 15 Colors.
90 Yards of Super Bulky yarn.
100% Merino, Hand Wash, Dry Flat.
2-2.5 sts=1″ on US 13-17
.
SILK GARDEN SOLO in 10 Colors
110 Yards of Worsted weight yarn.
45% Silk, 45% Mohair 10% Wool.
4.5 sts=1″ on US 8
Dry Clean
.

IMPULSE BY PLYMOUTH YARN in 4 Colors.
218 Yards of Chunky Weight Yarn.
78% Acrylic, 12% Mohair, 10% Polyester
3 sts=1″ on US 10.5
Hand Wash, Lay Flat

.
.
ROSEMARY'S PROJECTS:  I try to keep myself busy knitting and crocheting projects for the shop to display and sell.
.
SHARE YOUR PROJECT:  I'm sure you are going to love the projects that my customers have made for you to see this month.
.
Helen comes in my shop for yarn to make afghans and I asked her to please take pictures of them so I can show you what a great job she does.  She came in the other day with pictures of the 7 she has completed so far this year and to pick up more yarn for number 8!   Here they are the 7 and you will agree they are beautiful.
.
My beautiful daughter-in-law, Michiko, came to visit us and I taught her how to crochet.
This is her very first granny square for an afghan to fit her full size bed!
Didn't she do a wonderful job and I'm so proud of her!
.
Jene knit this hoodie with Encore Tweed and it looks like she did her swatch to get just the right gauge because it fits just right!
.
What a beautiful Fair Isle pullover.
I regret that I can't find the knitter's name as I jotted it down on paper and have
misplaced the paper.  My bad!  You did a wonderful job!

.
Marilyn knit these two cute hats and adorable Lamby's.
She is challenging herself more and more and I love it!

.
Val did it again this month.  She knit this one with Snuggly DK by Sirdar and it came out so darn cute.

.
I wanted you to see the detail in the lovely woven blanket that was knit so I tried to take a close up but it still did not show up the beautiful detail.
This blanket was woven using Snuggly DK by Sirdar.

 .
Pat knit this lovely scarf using Marble Chunky by James C. Prett.
I love the way it looks on her, don't you?
.
Dr. Who and Slytherin hats were knit by Lisa from yarn she got at my shop.
They are great hats, Lisa!
.
Barbara knit this lovely shawl using Ultra Alpaca by Berroco and got to show it off to our knitting group.

.
Jean knit this cute Lamby using Cascade's Pluscious yarn.
.
Steve knit this BEAUTIFUL shawl and sent me a picture of it still on the blocking board.
He gave it to a friend and all I can say is, "What a lucky friend"!
,
Theo was very busy knitting and made a lovely hat along with the cute Lambie everyone in the knitting group has been making.
She also completed the lovely tank top that Jacelyne is modelling for her.
It is hard to see the beautiful "Quilted Vest" design that she knit in this top but it is really stunning.
.
CLASS SCHEDULE: Instead of listing all the classes that I have scheduled, you can check them out anytime at your convenience here in CLASSES or anytime by going to my web site home page and selecting CLASSES for the latest list. We've got some great classes going on and adding more all the time!
.
.
Rosemary's "Yarn Shop" is the home of "GATHERING HANDS"
VOLUNTEERS NEEDED: Cold weather is heading our way and I am needing some volunteer  knitter's to help with my "Operation Warm Hands" and "Richie's Cap"programs for mittens and Chemo Hats.  Please contact me if you would like to help out little children with cold hands and those fighting cancer.  207-894-5770.
Gathering Hands is comprised of knitters and crocheters who share a common goal of helping others through various projects. You don't need to live close by to be part of Gathering Hands. Our hands can reach many!
Everyone is invited to be a part of GATHERING HANDS. You can help from your own home or your own knitting/crochet group and if in Maine or within driving distance of the Windham area please drop by and say hello.
"GATHERING HANDS" PROJECTS:
OPERATION MAINE MILITARY FAMILY:  The intention of this project is to make a difference in the lives of active duty Maine Military men & women whose families are living in Maine. I'm working together with the Steven's Avenue Armory to provide knit and crochet items for the families at Christmas time. I can use anything that you think they would like from birth through adult.  I must have all items turned in no later than December 1st each year in order that I can get them distributed in time for Christmas.
OPERATION PRECIOUS BABY: (I AM IN NEED OF SIZES TO FIT 3-5 lbs OR 5-8 lbs AND NO MORE VERY SMALL SIZES.   WHEN I AGAIN NEED THE VERY SMALL SIZES  I WILL POST IT HERE!
I have written a pattern that I will give out free to anyone who will knit for my project. My pattern is for preemies and written in three sizes. The first size is done on fingering weight yarn using a size 2 needle and will fit a preemie under 1 lb. The second size is done using DK/Sport weight yarn using a size 3 needle and will fit a preemie between 1-3 lbs. The third size uses worsted weight yarn and a size 4 needle and will fit a preemie between 3-5 lbs. Each set will be delivered to the Maine Medical Center, neonatal unit. If you can help with this project please drop me an email at gifts@maine-crafts.com and I will see that you get a pattern!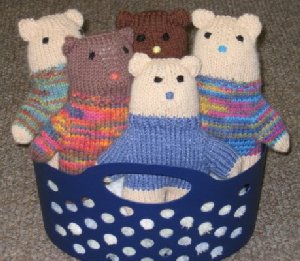 OPERATION SUNSHINE BEARS: (I ALWAYS NEED BEARS)
This is such a touching and fun project. I have a free one-seam knit Teddy Bear pattern available at the shop or by email at your request. The bears will be donated to the Ronald McDonald House and Maine Medical Child Life Program Barbara Bush Wing in Portland, Maine, and to Police and Firemen to give to children in crisis. These are wonderful Teddy Bears and I hope you will participate by making them too and help bring a smile to the face of a child. I want to give a very special "Thank You" to Eva McDonald who created this pattern and gave me permission to use and alter it for this project.

OPERATION RICHIE'S CAP: (Don't forget men and boys need hats too!)
This is a project for making chemo caps for cancer patients in memory of my friend, Richie Aaron. I have created a knit and crochet pattern and it's free when you'll make a cap to donate. This project continues to be such a success as I receive hats from all over the country from customers that have come by the shop or read about it on-line and mail them on to me. I encourage soft yarns for warm caps during winter months and cotton, bamboo, etc. for summer months to protect against the sun.
OPERATION WARM HANDS: (MITTENS ARE ALWAYS NEEDED WHEN YOU LIVE IN MAINE!)
This is another wonderful project of making mittens for donation for the winter season to those with a need. What a great small project for the knitter with little time and so worth while to a child with cold hands! I invite you to help in this project!
IF YOU KNIT OR CROCHET……CAN YOU HELP AND BECOME A PART OF GATHERING HANDS?
Just drop me an email: gifts@maine-crafts.com
Together we can make a difference!
Deliver or ship Preemie Sets, Mittens, Richie's Caps, Sunshine Bears
and Maine Military Family items to:
Rosemary's Gift & Yarn Shop
39 Roosevelt Trail
Windham, Maine 04062
PROJECT LINUS……ROSEMARY'S GIFT & YARN SHOP IS ALSO A PROJECT LINUS DROP OFF LOCATION: Please drop off quilted blankets or knit and crochet afghans for Project Linus at my shop. To learn more about the Cumberland Chapter for Project Linus click HERE for their latest blog.
.
.
GIFT SHOP……Maine & USA Made (No Imports)
I have placed many of my Maine & USA made gifts on sale from 25 – 50% off! to make way for some new gift products. This applies only to in-stock items and includes Kim's Stenciled Slates, Metal Decor, Pewter Ornaments and many, many others. It is a great time to purchase at a great price and support a Maine or USA family!
I also have some neat gifts for knitters and here are just a few samples:  The Knit Kit, a great selection of necklaces any knitter would love and a Yarn Wheel that makes knitting or crocheting a breeze.
Remember, when you purchase from the gift shop you are supporting a Maine or USA family. I think you'll find we have a good selection of very inviting gifts. I appreciate your supporting these talented craftsmen.
I do sincerely thank you for your continued support of Rosemary's Gift &Yarn Shop.
Rosemary