Donation Programs – Gathering Hands
Rosemary's "Yarn Shop" is the home of "GATHERING HANDS"
Gathering Hands is comprised of knitters and crocheters who share a common goal of helping others through various projects. You don't need to live close by to be part of Gathering Hands. Our hands can reach many!
Everyone is invited to be a part of GATHERING HANDS. You can help from your own home or your own knitting/crochet group and if in Maine or within driving distance of the Windham area please drop by and say hello.
"GATHERING HANDS" PROJECTS:
OPERATION MAINE MILITARY FAMILY: (Now is the time to knit for the Military Families)  The intention of this project is to make a difference in the lives of active duty Maine Military men & women whose families are living in Maine. I'm working together with the Military Family Assistance Center to provide knit and crochet items for the families at Christmas time. I can use anything that you think they would like from birth through adult.  I must have all items turned in no later than December 1st each year in order that I can get them distributed in time for Christmas.
OPERATION PRECIOUS BABY: (I AM IN NEED OF SIZES TO FIT 3-5 lbs OR 5-8 lbs AND NO MORE VERY SMALL SIZES.   WHEN I AGAIN NEED THE VERY SMALL SIZES  I WILL POST IT HERE!
I have written a pattern that I will give out free to anyone who will knit for my project. My pattern is for preemies and written in three sizes. The first size is done on fingering weight yarn using a size 2 needle and will fit a preemie under 1 lb. The second size is done using DK/Sport weight yarn using a size 3 needle and will fit a preemie between 1-3 lbs. The third size uses worsted weight yarn and a size 4 needle and will fit a preemie between 3-5 lbs. Each set will be delivered to the Maine Medical Center, neonatal unit. If you can help with this project please drop me an email at gifts@maine-crafts.com and I will see that you get a pattern!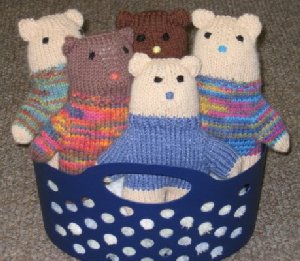 OPERATION SUNSHINE BEARS: (I ALWAYS NEED BEARS)
This is such a touching and fun project. I have a free one-seam knit Teddy Bear pattern available at the shop or by email at your request. The bears will be donated to the Ronald McDonald House and Maine Medical Child Life Program Barbara Bush Wing in Portland, Maine.  These are wonderful Teddy Bears and I hope you will participate by making them too and help bring a smile to the face of a child. I want to give a very special "Thank You" to Eva McDonald who created this pattern and gave me permission to use and alter it for this project.
OPERATION RICHIE'S CAP: (Don't forget men and boys need hats too!)
This is a project for making chemo caps for cancer patients in memory of my friend, Richie Aaron. I have created a knit and crochet pattern for a simple beanie style hat and it's free when you'll make a cap to donate. This project continues to be such a success as I receive hats from all over the country from customers that have come by the shop or read about it on-line and mail them on to me. I encourage soft yarns for warm caps during winter months and cotton, bamboo, etc. for summer months to protect against the sun and don't forget the men…they need hats too!
OPERATION WARM HANDS: (MITTENS ARE ALWAYS NEEDED WHEN YOU LIVE IN MAINE!)
This is another wonderful project of making mittens for donation for the winter season to those with a need. What a great small project for the knitter with little time and so worth while to a child with cold hands! They also make a great summer project and I invite you to help in this project!
IF YOU KNIT OR CROCHET……CAN YOU HELP AND BECOME A PART OF GATHERING HANDS?
Just drop me an email: gifts@maine-crafts.com
Together we can make a difference!
Deliver or ship Preemie Sets, Mittens, Richie's Caps, Sunshine Bears
and Maine Military Family items to:
Rosemary's Gift & Yarn Shop
39 Roosevelt Trail
Windham, Maine 04062
PROJECT LINUS……ROSEMARY'S GIFT & YARN SHOP IS ALSO A PROJECT LINUS DROP OFF LOCATION: Please drop off quilted blankets or knit and crochet afghans for Project Linus at my shop.